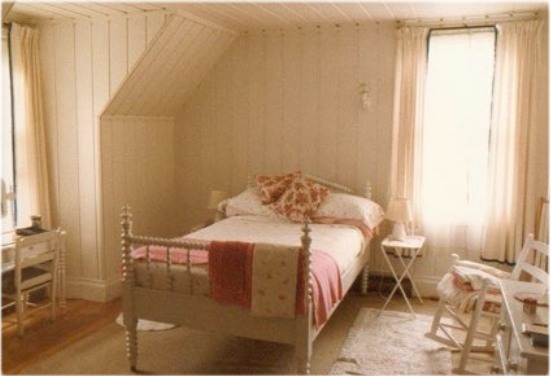 Private coll. (Charles Maclean-Cochand).
Kenneth Molson had a very large summer home built in Saint-Patrice, but the Great Depression of the 1930s left him in financial shambles. The villa changed hands and the new owners, the Macleans, called it "Brandy Pots" after an island to the northwest of Saint-Patrice. 
Over the years, the residence welcomed many renowned guests, including Princess Aline, Queen Victoria's granddaughter and the wife of Alexander de Teck (also known as Alexander Cambridge), who was Governor General of Canada from 1940 to 1946. The home had a wing for the servants and even a casino! However, this photo shows a sparsely furnished bedroom—quite a stretch to a princess canopy bed! But after all, Brandy Pots was just a "simple" summer home.